Good Monday morning! Today we have a new sketch and a fabulous new sponsor for January. First we'll show you the sketch:

Sketch 97



The DT made some beautiful creations using the sketch -as usual.

Carrie Labani
Family



Sara Zenger
Enjoy Your Friends



Brigitte Van Linden
Santa's Little Helpers



Lisa Wilkinson
Explore



Luzma Bruna
Moments To Remember



Kylie Symons
Surfer Girl



Wendy Kwok
Party Girl



Monique Nicole Fox
Let It Snow



Monique Liedtke
One Crazy Girl



Try the sketch, add it to Mr. Linky below and you could be this month's winner! Here's what you can win (its a goood one!):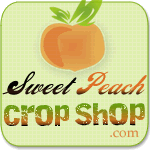 Sweet Peach Crop Shop has generously donated their AMAZING January Juicy (themed) kit for one lucky winner. Complete any of the sketches posted this month by Feb 1st and you will be in the running.

I can't wait to see 'em!